Senior Citizens' Advanced Meditation Program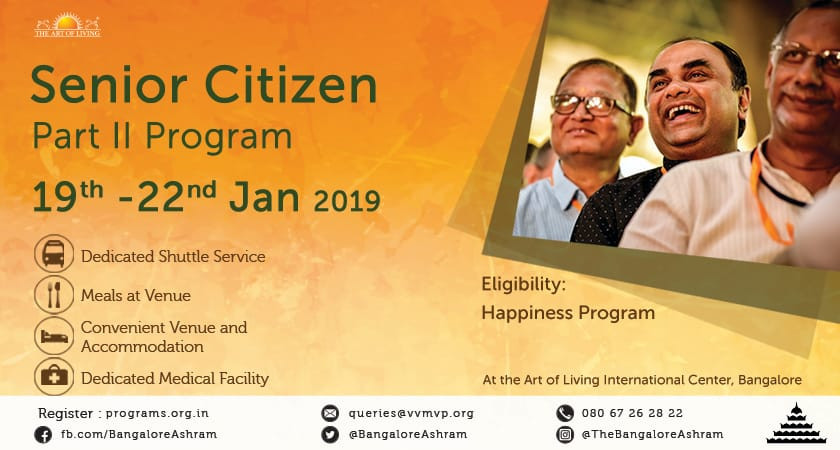 Meditation is the journey from movement to stillness, sound to silence.
- Gurudev Sri Sri Ravi Shankar
The Advanced Meditation Program helps you to go deep within, quieting the mental chatter. The program involves guided meditations and advanced breathing techniques, especially designed by Gurudev Sri Sri Ravi Shankar, and enables you to experience:
Deep inner peace; the state of Samadhi
Increased self-awareness and greater sense of clarity
Heightened energy levels; renewed vitality
Increased creativity
Earlier, elderly people were unable to take advantage of these specially designed programs held in the Bangalore Ashram owing to limitations such as mobility, non-availability of ground floor accommodation, venues involving climbing of stairs, etc. Also, some of these people might have needed quick medical attention in case of an untoward event.
Key Highlights
Dedicated shuttle service
Meals at venue
Convenient venue and accommodation
Dedicated medical facility
But now, The Art of Living has launched a special, focused Advanced Meditation Program specifically targeting the senior citizens and the elderly. Convenient allocation of rooms and venues, and availability of an exclusive set of shuttles ensures that the participants will be totally relieved of the burden of moving from one place to another. You won't need to climb the stairs or inclines either, as vehicles will be made available at your disposal. Two medical attendants at the venue will provide round-the-clock support and will be backed by the availability of an ambulance and clinic. Doctors at the venue will oversee all the arrangements and ensure that any kind of medical emergencies are professionally addressed.
Many of the participants from previous batches have voiced total satisfaction with the support and help they received during the program. The infrastructural support enabled them to focus on attending the sessions and derive maximum benefits from the program.
You too can now register yourself or other elderly people known to you for these programs. The next program starts on January 19th-22nd, 2019. The details are given below:
Advanced Meditation Program: January 19th-22nd, 2019
Eligibility: Happiness Program
Indian nationals only
Language: English and Hindi