What does Yoga have to do with Football? This rather rugged game of football is associated more with the likes of Beckham or Messi or Ronaldo, huffing and puffing during rigid and tough fitness routines on the ground; rather than them stretching their hamstrings and tucking and flexing their toes to strengthen their ankles in a serene room. Lately the regular fitness regime of these "Fit & Flexible" footballers we so much admire and swear by has drastically altered. With yoga and meditation taking the world by storm, the game and the players have not been spared either!
Yoga and meditation could look like no more than a series of variations of people lying down in a tracksuit, to the uninitiated. But this is a just naïve perception. Many major football teams have incorporated yoga and meditation in their pre as well as off-season traditional rigorous training regime. What more?! Some major sports teams have been pushing their players to practice yoga and have even added yoga instructors to their staffs. Players from these teams begin their day with yoga & meditation and practice yoga stretches post the game too, to help heal injuries, cramps or spasms. For noted player and coach, Ryan Giggs, yoga has proved to work like a balm for not only the persistent hamstring injuries, but also get over a lost game! Players have developed greater will power, great inner focus & overall spiritual well-being, along with all the added physical benefits yoga can have.
Here's how yoga and meditation can add value to your game if you are a player yourself or even a football enthusiast!
Kick it Yoga Style:
Given the amount of running, sprinting and kicking that soccer players do, most of them would benefit from yoga asana that emphasize improving flexibility of the legs, and improving stamina. Improving flexibility and loosening the tissues around the hips, thighs and calf is most important to develop a player's athletic performance.
Yoga Poses for Soccer Players:
The following yoga postures will improve flexibility of the leg muscles, especially the hip flexors and hamstrings:
A very useful posture that is said to balance the concepts of commitment and surrender. This pose can improve strength, flexibility and balance. Strengthens and stretches the thighs, calves, and ankles and the muscles of the back.
An excellent stretch for the inner thighs, groins and knees, improving flexibility in the groin and hip region. When practiced as cooling down asana after the game, it helps to remove fatigue from long hours of standing, walking and running.
This asana captures the essence of yoga by combining strength and flexibility, intensity and inner focus. It works on the wrist, shoulders, hamstrings, calves, arches and strengthens the arms and legs.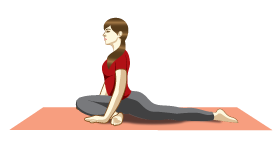 Everyone can benefit from opening their hips - whether you are a runner, biker, or a soccer player or even a mom-to-be! This asana helps athletes in stretching their hips which can help prevent lower back pain, or knee or hamstring injuries.
Ashwa Sanchalanasana
This asana increases the strength of your calves, thighs and groins. It is particularly beneficial in correcting the problems related to the back and providing strength to the forelimbs.
Meditation: It's a Mental Game too!
Meditation is another very important aspect of rigorous sports training. Whether it is to calm the players down, center their scattered energy, increase their focus or create a balance and consistency in performance as well as build their sportsman spirit, meditation can do wonders. Researchers from Ulleval University Hospital in Norway report that sportsmen who use meditation after tough training sessions reduce their production of lactate – the ache-inducing by-product of anaerobic exercise – and recover their fitness levels faster.
So if you are a football player yourself and an enthusiast in the real sense, you can improve your game with the help of yoga!
Yoga practice helps develop the body and mind bringing a lot of health benefits yet is not a substitute for medicine. It is important to learn and practice yoga postures under the supervision of a trained Sri Sri Yoga teacher. In case of any medical condition, practice yoga postures after consulting a doctor and a Sri Sri Yoga teacher. Find a Sri Sri Yoga program at an Art of Living Center near you. Do you need information on programs or share feedback? Write to us at info@srisriyoga.in